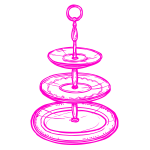 Afternoon Tea
Starts at 11:00 am
Afternoon Tea for One $32
A large pot from our selection of loose leaf tea, three freshly made finger sandwiches, two warm savouries, one scone and crumpet, with clotted cream, house-made lemon curd and jam, and five bite-sized sweets and treats
Nursery Tea $18
For children 12 years and younger and adults 65 and older
A small pot of loose leaf tea or hot chocolate, with mini finger sandwiches, a scone with jam, and three bite-size sweets and treats.
Crown Craft $5
Something to keep the little ones busy…a glittered Crown and Stickers.
Ask your Trolley Dolly if you'd like to make your tea gluten free! (additional $5).
To share the Afternoon Tea there will be an $8 split plate charge.
Minimum $10 per person. Thank you for your understanding.
For parties of six or more, we add a 20% gratuity.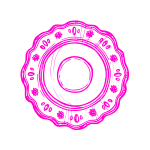 Served with an organic green salad
Sausage Rolls $14
Chicken apple sausages wrapped in puff pastry and served with potato crisps
Chicken Pot Pie $14
Roasted breast of chicken with petit peas, carrots, onions, and celery, topped with a puff pastry cap
Avocado Toast $12
Mashed avocado on two toasted buttered crumpets with cherry tomatoes and a light sprinkle of Worcestershire secret sauce served with organic greens
Beans on Toast $10
A British classic lunchtime favourite; Heinz beans poured over hot buttered toast.
Served on a toasted ciabatta, with a side salad and potato crisps
Tricolore $12
Homemade pesto, sliced avocado, roma tomato, and mozzarella
Chicken Mozzarella $14
Oven roasted chicken breast, roma tomato, and mozzarella
Bacon Apple Cheddar $14
Bacon, green apple, English cheddar, 'Branston' pickle, and Dijon mustard
Crown & Crumpet House Salad $12
Mixed greens, kale, cherry tomatoes, sliced apples, strawberries, with house dressing
Turkey BLT Salad $12
Turkey, mixed greens, tomatoes, diced avocado, and bacon with house dressing
Soup $12
Bowl of homemade soup with toast, and a side salad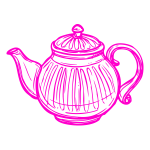 Crown & Crumpet Private Blend
Blended exclusively for us in the UK, an Assam & Darjeeling mixed with a bit of Keemun
English Breakfast (decaf also available )
The classic version, no need to say more
Darjeeling-the 2nd flush
Light and bright, the champagne of teas comes from the tea estate of Goomtee in Darjeeling, India.The 2nd flush is what makes it unique and highly praised leaf.
Assam
A rich aroma and a classic strong malty taste that will put a spring in your step, this 2nd flush leaf lends itself to a rich cuppa.
"Builder's Tea"
The not so fancy but oh so classic basic black tea.. If you are British you will know what we mean!
Earl Grey
Elegant & refined because the Bergamot makes it fancy
Duke of Earl
The duke knew Lady Grey and now he calls it his own….a tad more citrusy and lady like…
Alice Drink Me Tea
Oh yes, please do! Champagne grapes flavours the tea along with teeny tiny sugar crystals
Marie Antoinette
She lost her head over the love of roses, vanilla and strawberries in her tea!
Paris
Our most popular blend, vanilla & caramel are the high notes of this beloved French tea
Rule Britannia
Our newest blend, named for one of our favourite tea loving guests, A perfectly sweet blend of black tea, matcha sprinkles, puffed rice and chocolate.
Stardust
All that glitters & shines…citrus, cloves and sweet silver dragees make the perfect blend for your favourite Unicorn.
Divine on the Vine
A decaf blend, scented with subtle, succulent muscat grapes.
Chai'd & Loving It
Reminiscent of the Raj, a classic chai with cinnamon, cardamon cloves and ginger
After 7:59
Perfect for "Afters," chocolate and a hint of mint blended to ease the digestion and excite the palate!
Strawberry Fields
 A most beloved cuppa, this creamy blend of sweet strawberries and vanilla over green and matcha tea.
Grapefruit Green
Rise and shine! Scents of green tea and juicy grapefruit refresh and revitalize your senses in this eye-opening blend.
Minted Green
Cleanse your palate and lift your spirits. Tightly rolled gunpowder green tea blended with bright peppermint.
Happiness is…
Tropical fruits and citrus with pretty, delicate flower petals create a refreshing cup of green tea loveliness
Jasmine Fancy
The union of China green tea with fresh jasmine flowers creates a delicious cup with a rich tradition. Each brew has the sweet and smooth fragrance of a garden in bloom
Blue Eyes
Hibiscus, rose hips, orange and apple come together with delicate cornflower blossoms to create a great tea for tots
Keep Calm & Carry On
Cool and deeply refreshing, chamomile buds and peppermint leaves create an exceptionally uplifting blend that is caffeine-free and great for the tum!
Swamp Water
Don't be put off by the name! An amazingly tasty Rooibos and fruit tea with pineapple, mango and passionfruit. Tropical with a sweet finish.
Pretty In Pink
Strawberry and vanilla are the high notes with hibiscus, elderberries, blueberries and botanicals create fruity
Peach Crumpet
Calendula petals and natural peach flavor oils help to make this signature tea one of our house favorites.
Bai Mu Dan (White Peony)
Is perhaps the most natural of teas from the Fujian province of China. It steeps to yield a clear, straw-like color with tastes of melon, grape and herbs. This tea pairs very well with both savory and sweet foods and is light on caffeine.
Tieguanyin Oolong
As the rolled leaves steep, they unfurl slowly and release lush, honey-colored liquor and an orchid-like flavor that will delight the palate. This oolong is rich and is good for a number of infusions as the leaves release complex flavors plus it sucks up fat!
Imperial Pu-Erh
This is a high-grade, cooked Pu-erh that is a unique and rare tea with numerous health benefits. Light on caffeine it can be steeped multiple times. Pu-Erh is an unusual ancient tea and once you try it you may give up on coffee!
Lychee Congou
A black leaf tea flavored with the freshly squeezed juices of the Lychee fruit.This natuarly sweettea is made from a varietal grown in Fujian Province, the tea is fragrant and quite delicious served either hot or iced.
Peach Crumpet
Calendula petals and natural peach flavor oils help to make this signature tea one of our house favorites.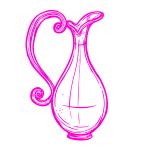 Large Pot of Tea $8
Small Pot of Tea $6
Tea to Go $3
Hot Chocolate $5
Drip Coffee $3
Cappuccino $4
Mocha $4.5
Espresso $4
Americano $4
Café Latte $4
Matcha Latte $5
Soy Milk $.50
Almond Milk $.50
Opening Times
11:00am – 5:15pm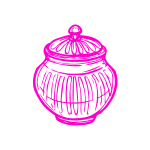 Trolley Dolly
Tea Options
Pot of Tea and Scones  $12
Pot of Tea and Crumpets  $12
Pot of Tea and Sweets  $14
Pot of Tea and Sandwiches  $14
Pot of Tea and Cake  $10