C
rown & Crumpet was founded in 2008 by Christopher and Amy Dean in San Francisco. The original Tea Salon was located in Ghiradelli Square and was a well loved and unique space for a British Tea Salon. But as things are want to go in the ever popular San Francisco real estate game the rent became too high and alas that location had to go. A new, smaller location was opened in 2013 in the Japantown neighborhood of the city. The management of The New People Building, a Japanesse Arts & Entertainment building recognized our unique brand and style of restaurant, cafe and tea salon rolled in to one that they thought "wouldn't it be a jolly good idea to have a Crown & Crumpet mini version located in our lobby ?" What a brilliant idea! We quickly gathered together our tea pots, silverware, tablecloths and loads of other accoutrements and opened up Crown & Crumpet Tea Stop Cafe in the Spring of 2013
We called it the "Crown & Crumpet Tea Stop" so that we could manage all our devoted and beloved fan's expectations about the new space. Sadly the pink and white floors are not here, the chandeliers covered with linen fabric drums, the sofa and fireplace and the portrait of Chris's aunt  hanging above the said fireplace are all packed away for another day and our second location! The good news is that we were able to get back in business pretty quickly, in a great location and a rent that was WAY more reasonable and sustainable for the long term. We also have an amazing staff and Pastry Chef extraordinaire who leads a great kitchen and  has elevated all aspects of our menu! So have no fear, we may not have all the glorious "bits 'n' bobs" of the Ghiradelli location but heck, we are still in business, we still serve the best Afternoon Tea service in the Bay Area (according to loads of people!) and we are still lots of fun and we are still cheeky to boot!
❈
Christopher & Amy Dean
The Owners
Save
Save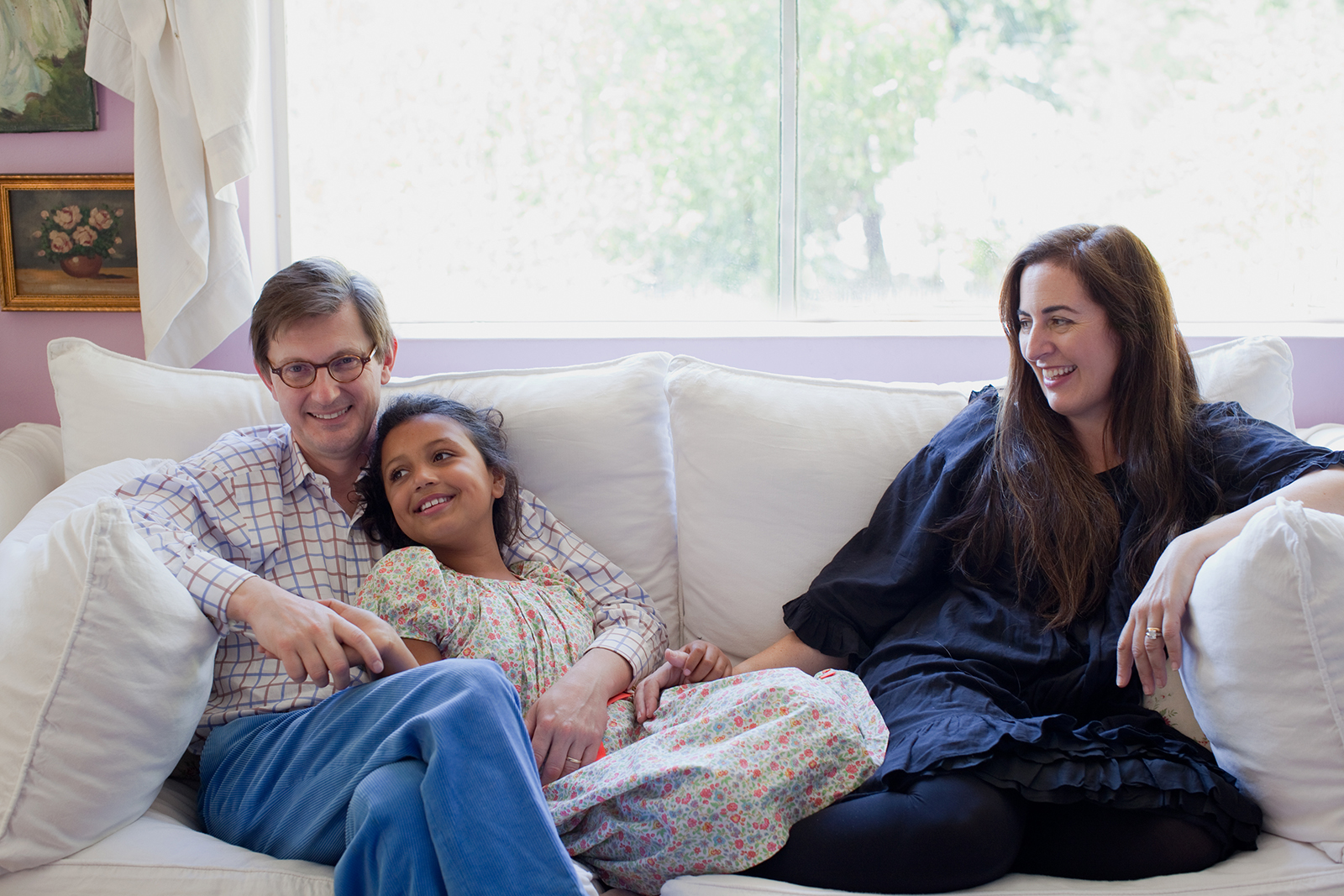 Save
Save
Christopher and Amy met in 1994 in London at a dinner party held at the home that once belonged to the 19th Century novelist George Eliot. Their mutual love of tea, antiques, and travel drew them together instantly. After tying the knot at a lavish tea party themed wedding on Chris's Aunt's croquet lawn, they travelled to Amy's home town of San Francisco. In 2001 they opened 'La Place du Soleil', a small but perfectly formed antiques store in Russian Hill. Over the seven years that the shop was in business, it gained a loyal following that bordered on the maniacal. Their clientele included many locals, decorators, and celebrities, including Cameron Diaz, Jeff Goldblum, and even Oprah! They loved running the business, only closing it when they realized it was time to move on to their next adventure of opening an English Tea Room that reflects their unique style and celebrates their love of of tea. And so Crown & Crumpet was born in 2008.
Save
Save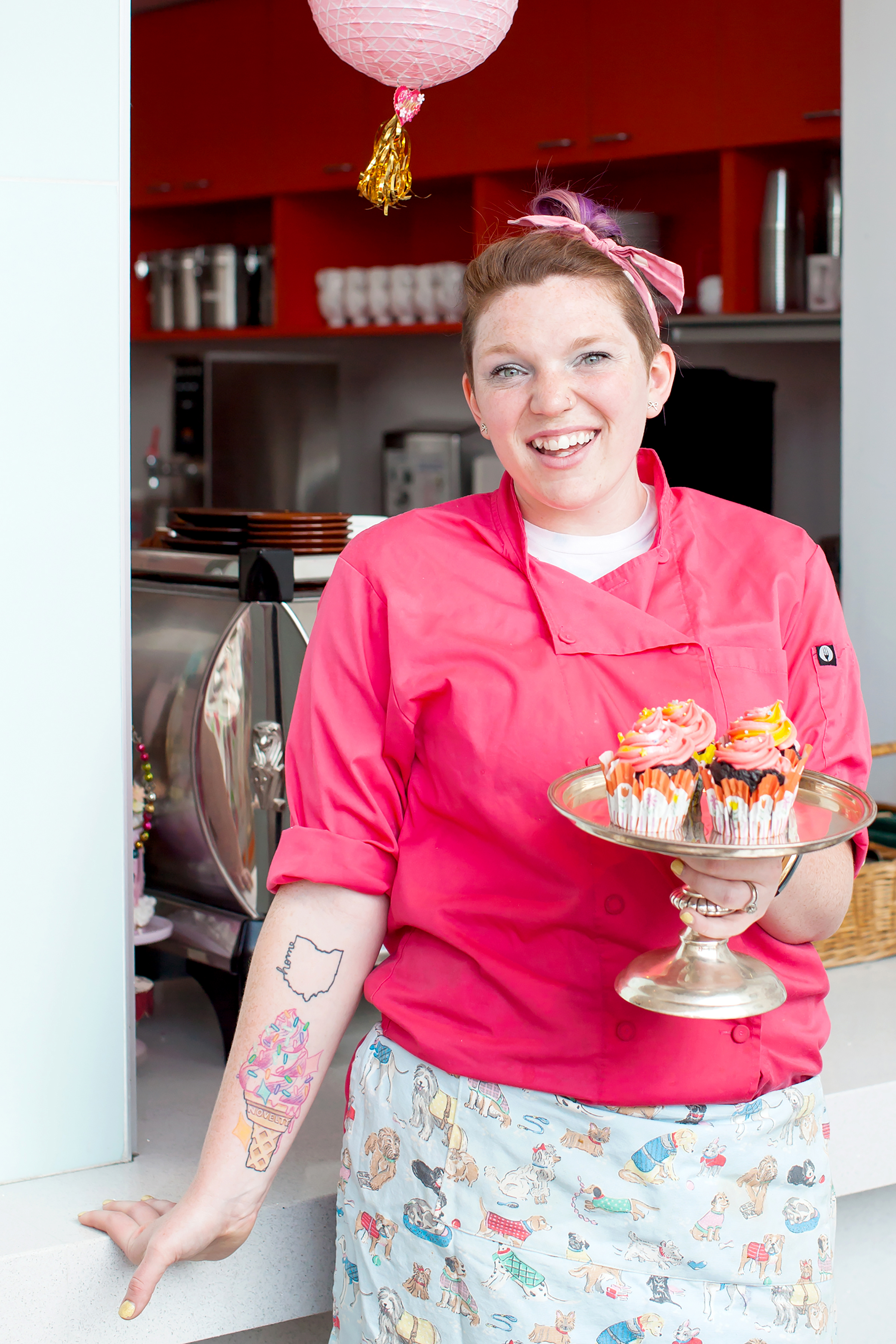 Miss Amanda Elkins
Head Pastry Chef
Amanda, our head Pastry Chef extraordinaire! The queen of unicorn cakes and common sense! How we worship her! Amanda hails from Ohio… not long after culinary school she and her charming husband high tailed out of the mid west by piling all their worldly goods including their  little pooch Daisy into their hatchback and made their way to San Francisco,  those crazy kids! Her first stop Crown & Crumpet and we grabbed her! Amanda loves tattoos, fuzzy animals, baking, her friends and living in Beserkley!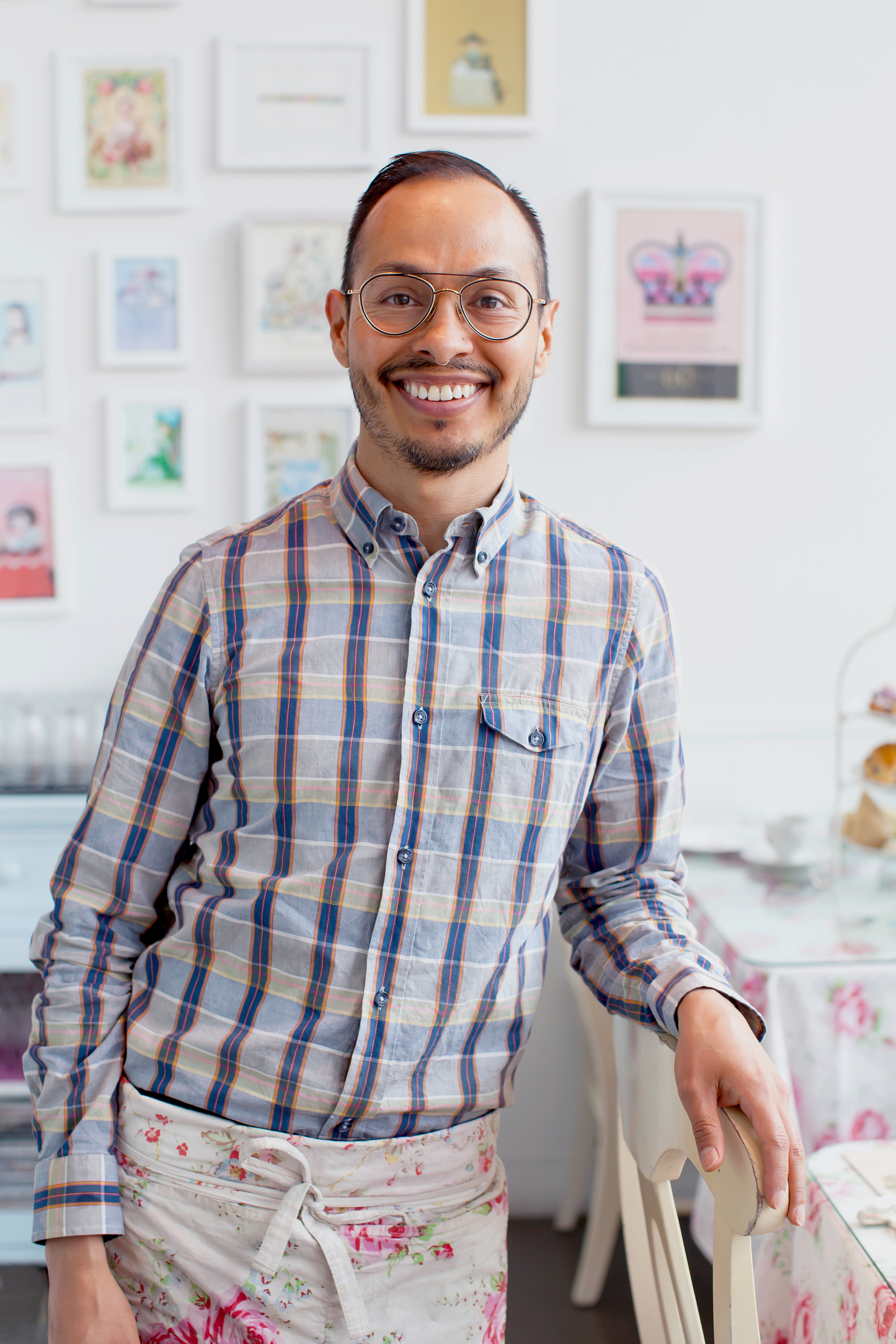 Andrew
Manager & Trolley Dandy
Andrew has been drinking the Crown & Crumpet tea-aid since we opened our Japantown location. We saw manager material in him with in days of opening and crowned him  the boss. He keeps us all on schedule, makes sure we are doing everything in the Crown & Crumpet way and regales us of his tales of high school at the School of Performing Arts with Mr Shu from Glee! When not brewing up pots of tea, checking in guests, serving, cleaning and bossing he can be found at the local spa getting a massage and dining in the Mission.
Brittany
Trolley Dolly
Brittany saves all her tip money to go to Japan to  buy Amy fun stationery and makeup. She hails from Florida but is super cool from her university life in New York City at the Fashion Insitute of Technology. Lured to the West Coast because of her obsession with Cosplay she was able to combine her love of fashion, modeling and Lolita Lovelies and pay for it by working with us here at The Crumpet. We are so thrilled to have her!
Odelia
Trolley Dolly
Odelia is our latest Trolley Dolly to jump aboard the Crumpet Train. Finally a gal who has no fear dressing in her cute Lolita style dresses to be a Trolly Dolly. Super crafty and cute, our gal is all excited to be working with us because her husband is from ol'Blighty and she knows what it means to have a proper pot of tea on hand at all times! We are pleased as punch that the pink loving la-la lass is ours!
Amilcar
Trolley Dandy & Busser
Sir Amilcar is our latest staff member and Amy got super excited when she saw that he went to the same college in Lugano, Switzerland as she did so she practically hired him on the spot! This paragon of tidiness and efficiency is a citizen of the world. His charm and intellect will keep you enthralled as he clears your plates and brings you fresh tea. He is a writer and he has his trusty notebook under the counter just in case  inspiration strikes him at any moment! Amy is secretly hopping he is going to write a book about the crazy shenanigans at Crown & Crumpet and the characters that reside here, she thinks it would make a great movie!
Ansley
Pastry Cook
Ansely is awesome! She turns out amazing sweet treats every day that sparkle and shine like the mane of a unicorn! Hooray! We love her cuz nothing really fazes her in the deepest moments of kitchen craziness! Trained at Le Cordon Bleu College of Culinary Arts here in San Francisco, Ansley has many other talents too, not only does she play violin but she is a serious gamer and artist! She never misses a chance to doodle on the white boards in the kitchen, her little anime characters to remind us what is being served that day! She's a super cheery girl and keeps us all happy campers!
Ross
Savoury Cook
Ross was rescued from the dregs of  dreary high school..he started off, like so many great chefs as the dishwasher and over the years has had "on the job training" as a savoury cook and he's doing a great job. He is our  protector of all things mechanical, analytical and judicial. With a mind that works like a mad professor he sorts us all out. When not working away in the kitchen concocting mini savouries and tea sandwiches he is teaching kids in Marin, martial arts as he is officially a black belt in Karate. Don't mess with our Ross!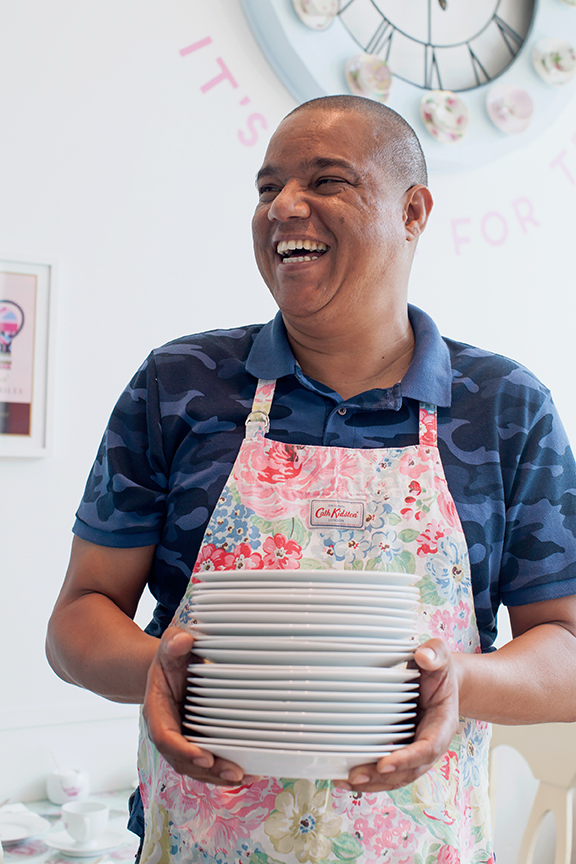 Wander
Dandy Dishwasher
Wander, oh Wander how we all adore you!! A truly amazing man of many talents. He is our god of all things behind the scenes in the kitchen! A real sweetie who is gentle and kind and funny! It's a hard slog for anyone doing dishes in a tiny cramped kitchen with crazy folk all around you begging for clean tea pots and silverware but Wander takes it all in his stride! Never a moan or rolled eye, just a happy smile and the words "SURE, here ya go" in his alluring Brazillian accent. When he's playing internet Brazilian radio while washing up we all love to hear his dulcet tones singing R&B and adding a little samba to his step!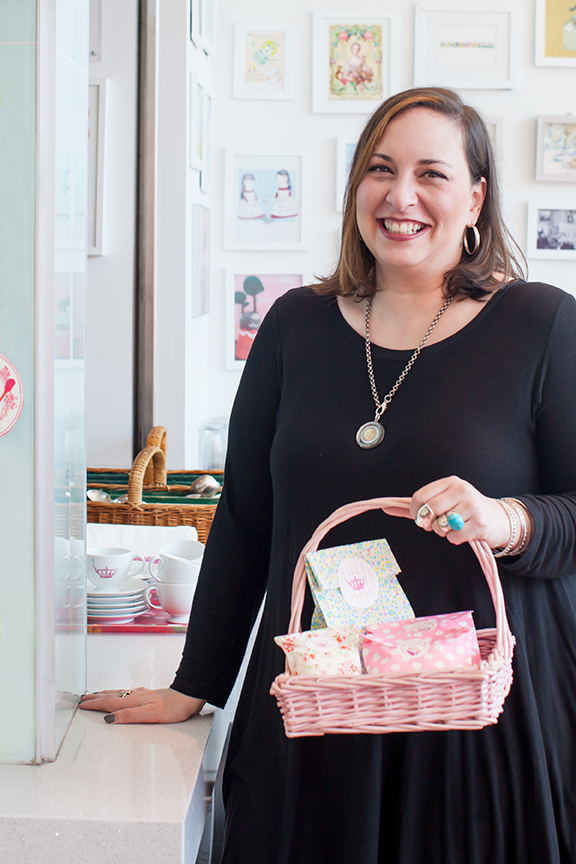 Elissa
Party Gal & Favour Expert!
Elissa was only supposed to stay through the holiday season to help with the bookings for our Holiday teas at The Sir Francis Drake but when we realized, not only has she got unending patience on the ol' dog & bone (Cockney for telephone) she is also a dab hand at crafty pursuits and can tie a mean bow. That was two years ago and we won't let her go!  Elissa moved out to San Francisco from Baltimore where she was in charge of membership and visitor's services at the Walters Art Museum. This was fantastic news as it means she can keep Amy on track with all the private party stuff. Amy is apt to digress in a million directions the minute she sees anything shiny or a squirrel, so thank goodness Elissa helps her stay focused!!